KAMINOKAWA HORSE PARK
Great Horses, Great Instructors, English speakers, Great Location,
AND The Most Reasonably Priced Riding Club in Japan!
To Japanese Page ("ú–{Œê)
1700 Higashifuzakashi, Kaminokawa Machi, Tochigi Ken, §329-0602
TEL: 0285-56-3214@FAX: 0285-56-0536
eastwind@beige.ocn.ne.jp

Photo Gallery

Riding Club Facilities:
Large undeveloped 10 acre area near the Kinu River for cross country riding.@720m2 Indoor arena as well as 2000m2 outdoor Arena and jumping area. Clubhouse with showers and changing rooms. Trampoline and play area for young children. Handicapped and blind riders o.k. KHP hosts several medium sized horse shows for all levels several times a year.

Namiashi School, a dormitory for students that don't attend school is also located on the property. Jean Pearce wrote a fine article about these children and our riding club in The Japan Times, click "Getting Things Done".

American English conversation programs can be arranged.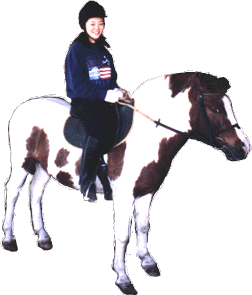 @Instructors

Koji Shinozaki, Toru Takahashi, Akitaka Ito, Keietsu Yanagida, Masahito Ito, Rihei Tsurumi
Instruction in English is available.

@Reservations

Reservations are Not required.

@Getting Here

By Train: From Tokyo take the Utsunomiya Line to Suzumenomiya Station. Then take a 15 minute taxi ride to the Horse Park, about 2000.
From Tokyo take a JR shinkansen train to Utsunomiya Station. Then take a 20-25 minute taxi ride to the Horse Park, about 3000. A bus from Utsunomiya Station is also available for about 500. Ask for a bus that goes to Higashi Fuzakashi. Kaminokawa Horse Park is the last stop.

By Car: Take the Tohoku Expressway north to the Tsuga Junction, which is the first exit after Tochigi City. Take the Kita-Kanto Expressway to the Kaminokawa Interchange. Go south towards Oyama on New Route 4 bye pass. Go about 500 meters and turn left toward Moka. You will go for about 4 K, or three signals. Take a right at the third traffic light where there is a ENEOS gas station on the left and a Family Mart on the right. The horse park is next to the Family Mart, some parking is right off the road. If you get lost, give us a call.

KAMINOKAWA HORSE PARK MAP

Hours of Operation: 10:00-4:30 Every day except Mondays

Holidays: We are usually open on National Holidays.

We have horse shows twice a year, the first on Green Day, April 29. The second is our Christmas Horse Show, also known as the North Kanto Area Junior Horse Show, on the first Sunday in December.

Horses: 21

Established on April 1, 1981

Owners: Koji and Corinne Shinozaki

Members: 100



@Entry Fee

@Monthly Fee

@Riding Fee

@Adults

@30,000

@10,000

@909/time

@Children

@15,000

@7000

@454/time

@Visitors

@First ride free!


@3000/30 minutes

@Group
@Family

@Group/Family Memberships can be arranged

@Horse Boarding

@'PDay is 1,500

@Beginner Lessons

@Every Day
...
Kaminokawa Horse Park
'È'Ý' 'µŠw‰€ˆÄ"à
1700 Higashifuzakashi, Kaminokawa, Tochigi Ken, 329-0602
TEL: 'O'Q'W'T['T'U['R'Q'P'S@FAX: 'O'Q'W'T['T'U['O'T'R'U
eastwind@beige.ocn.ne.jp